Blog
Is cloud computing right for your business?
/ Technical
May 23rd, 2012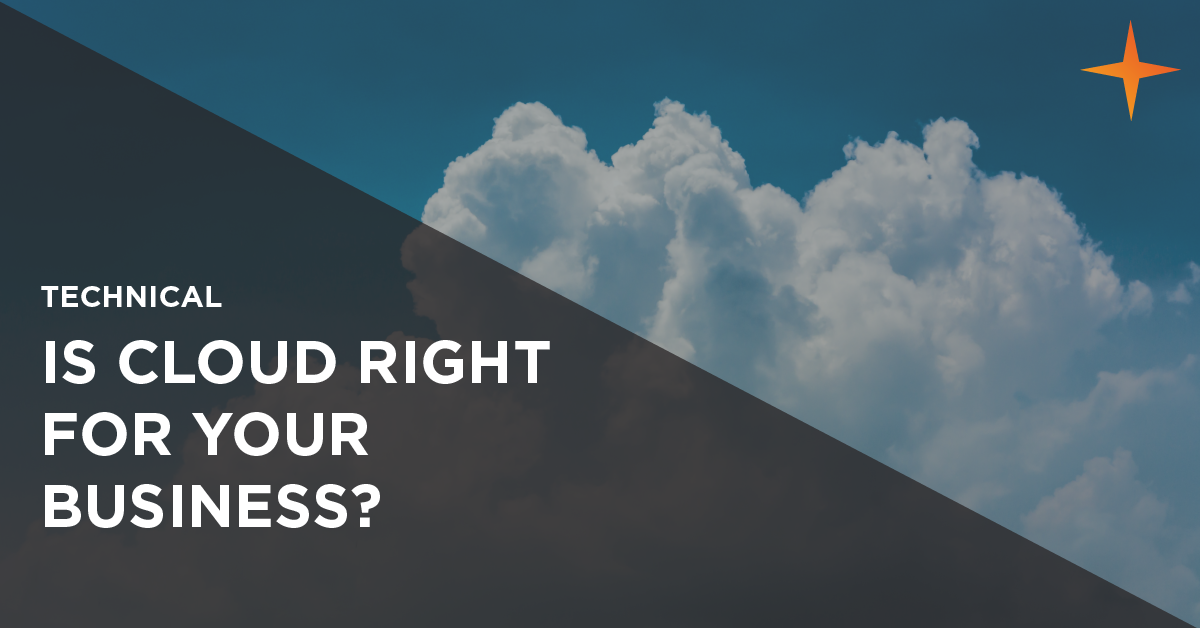 As a company that regularly consults on traditional IT services as well as those based in 'the cloud', we can speak with some authority when it comes to cloud computing.  Even though many IT service providers are still touting cloud services as a silver bullet, that's not an accurate portrayal. Although cloud can do many things, it isn't a one size fits all, and it's not right for every business.
Despite all the hype at the moment, cloud computing isn't some jaw-dropping new technology. In fact, a lot of the hype around cloud is actually, well, just hype. We now seem to have every man and his dog trying to provide and resell cloud services to fill a demand. From phone system companies and printing machine firms – it's just insane. Cloud certainly has its uses, but you shouldn't be tempted to give into a herd mentality that creates a sense of urgency in order to drum up sales.
It's important to remember that the cloud is just a tool. It's no different from say, a new server or some new software. Think about it this way: just because you've bought 30 new Apple Macs for your design studio, does that mean you should roll them out to your entire business?  Of course not. It's the same with cloud computing. It has its uses, but as with any other business decision, you need to be clear about what your company's objectives are for the short, medium and long-term.
Having said all that, there aren't many businesses that we can think of where a cloud service of one type or another wouldn't deliver a business gain – but some planning and forethought will go a long way towards gaining the maximum benefit from this model.
Some questions to ask yourself
Before rushing into a solution that includes cloud-based services, you need to make sure that you clearly understand the benefits and drawbacks of all the different options available. So, for example, have your business and its operations been analysed in suitable depth by the provider in question? Has a clear business case been presented as a result?  This kind of in-depth analysis is vital before rushing into any decisions.
Likewise, you'll need to think about whether there are likely to be any changes to your business in the foreseeable future and consider how these might impact your chosen solution. For example, say that you are thinking about opening a second (or third, or fourth) office in a new location.  What options do you have for sharing your IT systems with employees in this new location, in and out of the cloud, and what are the pros and cons? Also, explore what the true costs of these options be over contract term or life of the solution?
In order to determine these figures accurately, you'll need to consider any extra costs that may arise. For example, the need for new network connections and/or additional internal resources. This is important because some of these costs may be avoidable. If your business doesn't need additional services such as maintenance support or hardware loan, you might want to consider 'private cloud', which you can manage yourself.
Finally, you'll also need to think about your exit costs if you choose to abandon your cloud solution. Not just contractually, but also in terms of pulling off data and systems and migrating them to another vendor or back in-house.  This scenario is not uncommon and will require some foresight and planning in order to avoid unnecessary disruption and achieve the best results.
Questions to ask your cloud computing provider
There are many different cloud computing vendors, which makes it harder to know what is best for your business. If you're planning to host your most precious data and systems in the cloud, it's important to know your provider.  At the very least, you'll need to make sure they're financially stable and have a proven track record of delivering cloud services. The most professional cloud vendors should be more than happy to show you what certifications and accreditations they hold, and so if they don't offer this information, then ask for it.
Another important area to check is Service Level Agreements. What are they, and what happens if the provider doesn't meet them?  You should also ask about the provider's business continuity plans. What if the provider's central data centre experiences disaster or failure?  Does the company have adequate measures in place to protect your data and business operations? You should consider all of these potential scenarios rather than waiting for any problems to occur.
Another good tip is to ask for a trial or at least a fully functional demonstration.  Newer companies, in particular, may not fully understand their IT needs yet. Agreeing to a trial before signing a contract can let you see the benefits of outsourcing elements of your IT operations and using the cloud. If you decide it's not benefitting your business as you'd hoped, you can decide against signing a contract.
Ask providers for client testimonials, or even to speak directly to their clients so that you can discuss any concerns.
Some hidden dangers to avoid
A move to the cloud is not instantaneous, so it's important to ask about data migration right at the start. Will the supplier help you with your migration into the cloud – and back again, if necessary?
It's not uncommon for companies to misjudge the complexity or time involved in migrating to the cloud. Mistakes in this area tend to be the most costly. Likewise, it can be common to overlook the correct levels of security and resilience when choosing a vendor or solution.
For example, it's quite common for organisations to over-specify their cloud solutions as if they were buying a server that will need to last for years. People often forget that the beauty of the cloud is that it allows you to flex your operations and only to pay for what you are using at any given moment.
Vendor selection is critical in this regard. There are many providers flooding the market and simply chasing the cash at the moment.  You will need to undertake a rigorous selection process in order to determine whether a move to the cloud is right for your business. After all, the cloud isn't the only option out there. Traditional in-house server options can be just as suitable in many cases, and if it's a 'price per month' you're looking for, then there are always finance options available.
It's very important to keep all these areas in clear focus. It will be simpler and usually cheaper to address these issues at the beginning of any agreement, rather than having to re-engineer them later.
Get the most out of your investment
The biggest selling point of cloud computing is that, in many cases, you can gain access to enterprise-class systems with fewer upfront capital costs. You also benefit from easier implementation requirements and lower on-going maintenance costs, compared with similar in-house solutions.
However, if the cloud solution doesn't interface with other vendors and solutions then you should definitely think twice. Likewise, you should always know your exit strategy from your cloud service provider before you go in.
Cloud services are still a whole new entity for many service providers. You'll need to make sure that your provider is proven and their infrastructure and security is solid.  Also, if buying from an international provider, you should check whether support is available and adequate during UK business hours.
The upside of increased competition in this area means that cloud providers are offering increasingly competitive prices. Many now offer 24/7 support services and more advanced infrastructure options– including granular and continuous data back-up, disaster recovery options, high-availability, complex security solutions, as well as flexible resources – for a set cost. Individually, these services can be expensive and there can be complications when implementing. Especially for smaller companies that do not have the capital or internal capacity to handle the work themselves.
Again, even though cloud isn't right for every business, that doesn't mean that you should steer away from it altogether. Instead, ensure you're clear on all of the options, and consider in-house, private cloud and hybrid solutions as well. As long as the solution has been chosen through careful analysis and tailored to your needs, the results can be impressive and game-changing.