How to reduce IT costs and quickly gain more value from your spend
Last updated on May 14th, 2020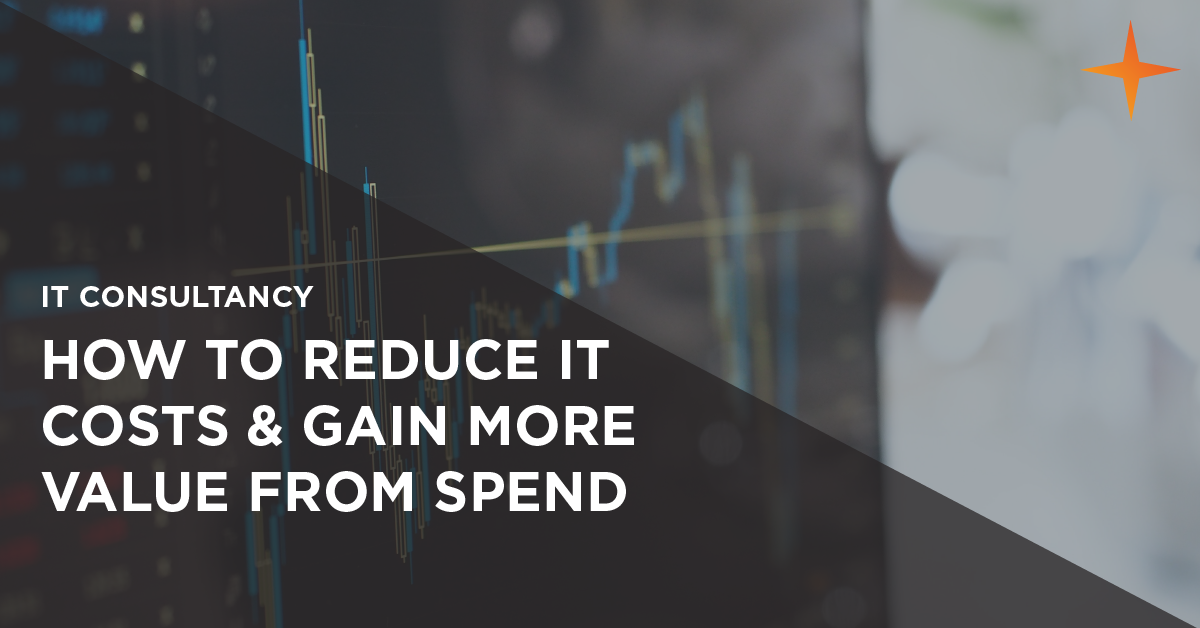 Naturally, when faced with any slow-down, a business must take targeted action to protect cash. Generally, cutting IT spend in large swathes is not sensible as it's typically the IT systems, the people and processes that allow the business to function effectively. They also allow it to come out of any downturn with pace and relative vigour.  
Before I go on, I'd like to note that I understand that some sectors are being massively hit by the current situation so simply surviving full-stop is the main priority right now – our thoughts are with them at this time. 
I've been through a few dips, in my previous life in the IT team within the cyclical electronics manufacturing sector, and then through the great recession of 2008 with QuoStar. Although we aren't in the same situation now, the past does give us lessons.  
How to evaluate your IT costs
The spending evaluation process in the current pandemic must be quick. Acting with speed does pose risks, so businesses and their IT leaders need to make sure they aren't making cuts that will cost them in the medium and long-term.  
So, when we are evaluating our IT spend, what should we assess and consider? What's going to get us in better shape now without affecting our competitive advantage on the other side? 
1. Go line by line on IT costs
Sit with your IT leadership and go through the current, committed and projected spend. This should naturally flush out immediate and potential reductions in operating and capital expenditure. The first thing to be reviewed is usually OpEx, but don't forget CapEx as well. 
2. Don't do temporary
Look for those costs that can be reduced or stopped altogether, rather than looking for those that can be temporarily frozen, only to reappear later. Memberships and subscriptions are prime examples of things that can be cut now and reinstated when needed. 
3. Review contracts
If your business is in a serious financial predicament, most reputable suppliers will try to assist if you are honest and open about the situation. Although it's unlikely they'll provide service free of charge or simply walk away from a contract there are options. Instead, they may look at resigning contracts on deals or providing short-term payment holidays. 
4. Focus on making an immediate impact
Make cuts that are targeted and can deliver an immediate impact within months – not years. Look for the nice–to–haves, such as subscriptions or lumpy non-essential licensing costs. 
5. Look at cloud spend
There's usually fat in most cloud environments: sometimes necessary and sometimes down to other priorities of the past. Assess what your real utilisation is and what your options are to reduce spend, without affecting operations. 
6. Prepare to spend to save
Any IT initiative or project should have a clear business case/ROI which should still be evaluated in the current situation. Halting all spending full stop, particularly around transformation projects, may end up costing the business more in both the short– and long-term. A project may need to be tweaked and adjusted, but perhaps not cancelled altogether. 
7. Keep going with innovation
Generally, innovation and R&D can be claimed back as a tax credit. This covers the bulk, if not all, of the costs, including salaries. Too many businesses miss out on tax credits, especially around IT development. The claim limit is two years so you may also want to look back and see if you have left any money on the table.  
8. Re-deploy staff
It's important that IT leaders look at how their staff are being used. Rather than furloughing or reducing headcount, staff in the IT department can be used to deliver greater value to the business, e.g. senior project engineers can be used to clear down lingering service tickets or developers working on a paused project could instead work on getting key KPIs to management faster during the pandemic. 
The risks of rash cost-cutting
Any cost-cutting must be done in a centralised and controlled manner. IT is often at the core of most business departments, so a decision in one place mustn't impact another or the wider business at a financial level, the level of security or the operational capabilities. All the risks must be clearly understood and evaluated, both in isolation and business-wide. 
Potential risks include cutting spending in the wrong areas, focusing on the wrong projects, opening security holes, and wider 'soft costs' like increased staff turnover and lower morale. 
In reality, the whole process of scrutinising costs against value should be part of normal business practice. However, it' is an easy task to overlook in better times. If taken correctly, the decisions made now can improve a business immediately and allow it to come out of the gate, post-crisis, ready to seize the advantage. 
Robert Rutherford, Chief Executive Officer
_______________________________________________________________________