Blog
How cloud can strengthen business continuity
/ Technical
September 19th, 2011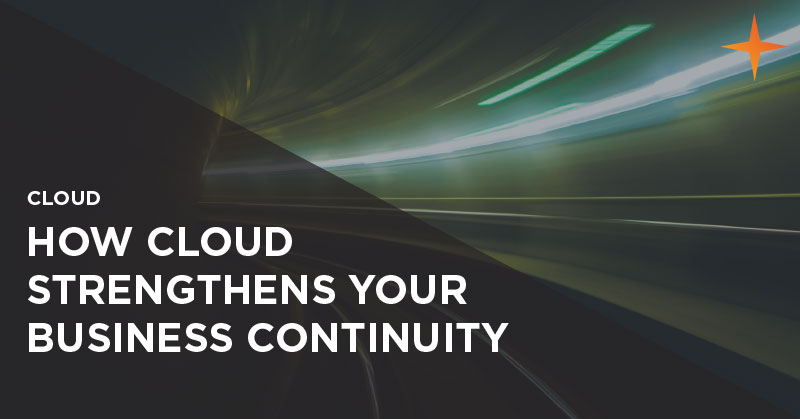 Cloud Computing, and indeed the whole concept of 'Software-as-a-Service', is continuing to grow in popularity. Already, these new web-based models of software distribution are completely transforming the way in which companies access and store their business-critical applications and data.
With traditional 'off-the-shelf' software packages, an application is normally installed on the company's main server, and then on each computer. With the SaaS model, however, key business applications are typically stored and accessed securely from a central, off-site location, often referred to as 'the cloud'. In terms of business continuity, this model has many advantages if, for example, the company's premises become inaccessible.
One key benefit of cloud computing focuses on the IT infrastructure itself. A strong SaaS provider will have highly-sophisticated systems that offer a much greater level of resilience than most businesses could ever create for themselves. After all, the SaaS vendor's whole business depends on the service that it is providing, and so a reliable supplier will do everything possible to avoid even small outages, as these can damage its reputation and revenue very quickly. The important thing is to choose a reputable SaaS vendor, then businesses will increase their resiliency to failure and strengthen their business continuity plans.
Structural reform: from root and branch to regime change
Companies should view the switch as a perfect opportunity to undertake a comprehensive review of existing policies in this area. This will ensure that they are reaping the many benefits made possible by storing their data 'in the cloud'.
The choice of technology partner will also be very important. Companies should not hesitate to ask questions about how SaaS will affect them before, during, and after the implementation. For a start, if a company is considering a move to the cloud they need understand how to retrieve their data from the SaaS provider if/when necessary, and if it will be in an accessible format so they can return to normal operations very quickly, should disaster strike. A specialist SaaS vendor will have no problem answering these questions in detail.
Covering your assets
You should also carry out a thorough check of the provider's indemnity cover in case of any problems. Carefully review any Service Level Agreements (SLAs) to ensure they meet your service needs and the provider is heavily UK-focused. For example, some providers may only support you during US working hours, and this not always clear at the start.
Also, businesses should consider how the switch to cloud computing will help with scenarios like train strikes or heavy snowstorms: will the business expect its employees to work remotely from home in cases like these? And if so, how will the SaaS vendor make sure that any communication into its SaaS service is secure? Few businesses will want to take risks in this area, and therefore will need to check whether their supplier will be able to protect their data and communications in situations like these.
Robust response
Companies should also ask whether their provider will replicate all of their data, and if so, to what location. Will the provider hold it all in the same city, county or country? A knowledgeable and security-aware SaaS provider should ensure they hold key data in separate cities. Managers should also review the SaaS provider's data centre specifications so they are familiar and comfortable with the facilities provided. A reputable provider will have nothing to hide in this regard.
Conclusion
Cloud computing can definitely make it easier for the business to carry on in the event of an incident. All key applications and services delivered by SaaS will continue to run automatically and in accordance with a business continuity plan. Furthermore, staff will easily be able to access data and applications from re-located offices or from home. As such, a robust SaaS solution can make it easier to continue operating in the event of a disaster.