Blog
What is the cloud? A brief description
/ Technical
February 18th, 2010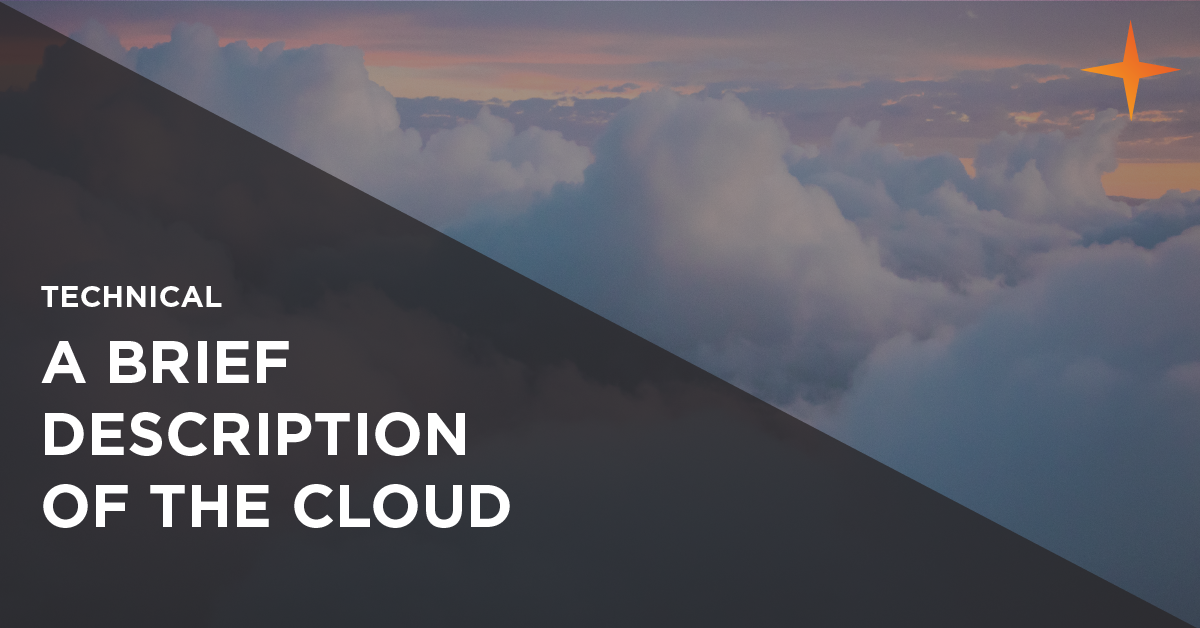 "What is the cloud?" is a question that's thrown around within and outside of the IT field. There are so many arguments on its true definition, and many just won't agree. You may hear some people dismiss it as hype to suit their own objectives. Or others who will tell you to move everything to the cloud now.
In short 'The Cloud' allows you and your company access to IT systems,  applications, data storage, processing and server resources without having to have them in your own premises. They are in effect owned and managed by a service provider in a data centre and you access them via the Internet or another type of network to perform your business functions. You pay a set fee per user, per server, or for an amount of computing resource on a monthly or quarterly basis.
What are the main benefits of the cloud?
Reduced Capex
No need to buy hardware and software as everything runs on your provider's hardware.
Increased Security
Security has been a concern in the cloud, however, if the provider understands security and manages it correctly then it's not an issue. It's likely to be much more secure than hosting and managing your own systems in-house.
Flexibility
Allows you to ramp your IT environment up and down more or less at will without great expense.
Outsourced Hassle
Allows your internal IT team to focus on strategic projects rather than day to day management of your IT environment. For example, server maintenance, backup checking and security updates.
Top-end Infrastructure
Gain access to high-end IT infrastructure, systems, resilience, software and security but without the large multi-national company price-tag.
Reduced Ongoing Costs
To run servers and other systems, manage them, upgrade them, cool them, provide protected power, multiple resilient network connections, and complex security systems are expensive. The cloud takes care of all this at a fraction of the cost.
Types of Cloud
Private Cloud
A cloud your company hosts or, more typically, a managed hosting provider will host for you. Typically the service providers host an individual IT environment for you, i.e. perhaps your critical email server, database systems, etc.
Public Cloud
Allow different companies and software developers to connect to a shared computing infrastructure and data storage system hosted by a service provider. Companies such as  Amazon and Microsoft provide this type of service.
Hybrid Cloud
Such as linking your own private cloud with a third-party public cloud, or linking multiple public clouds.
How is the Cloud delivered?
Software as a Service (SaaS)
Typically delivering a single service or application via a web browser. SalesForce or Hosted Microsoft CRM services is a good example. Another example of SaaS is services such as Hotmail and Google Apps.
Infrastructure as a Service (IaaS)
Is where key  IT infrastructure components, such as servers, firewalls and storage are hosted in a secure data centre and delivered to you or your customers via the Internet or private data connections. QuoStar's Managed Infrastructure Services, Amazon's Web Services and QuoStar's Hosted Desktop service are IaaS.
Platform as a Service (PaaS)
This allows software developers to build applications within the cloud without having to have the servers or server applications in-house – with all the associated expense it brings, such as CapEx and management.
Conclusion
So, is the Cloud just marketing hype? Yes, to some degree, it is. In reality, the concept is more than ten years old – some could argue 20 years (or more).
Is it a reality and that is going to affect your business? For sure, no matter what your size. Faster and cheaper internet, cheaper computing, rising energy costs, system complexities and the simple fact that IT is more central to business than ever means that it's pretty much unstoppable
I'm not saying that you need to move all of your IT infrastructures to the cloud right now. I do, however, believe that if you're thinking about some sort of IT investment then you should consider cloud. Even if you're not looking at investing right now you should still be open to listening to the 'hype' as opportunities for a competitive advantage will arise.
Robert Rutherford, CEO of QuoStar